Maruti Suzuki Super Carry in 2022 comes at price of Rs. 16.29 Lakhs in Nepal. CG Motocorp, the official distributor of Suzuki cars in Nepal, is currently selling only one variant of Suzuki Super Carry through its showroom or dealer network. Super Carry mini-pickup car is provided with 1196cc engine which runs on petrol.
Price List of Suzuki Super Carry in Nepal – 2022

Below given is the list of Maruti Suzuki Super Carry price in Nepal for 2022. This price list covers almost all variants of Suzuki Super Carry mini-pickup trucks available in Nepal:
Maruti Suzuki Super Carry price in Nepal

| Suzuki Super Carry variants in Nepal | Price |
| --- | --- |
| Suzuki Super Carry (1196cc) | Rs. 16.29 Lakhs |
Please note that above price of Suzuki Super Carry pickup cars are subjected to change and is for reference purpose only. Kindly contact Maruti Suzuki Nepal to get the latest showroom price.
Note: Suzuki Super Carry price list was last updated on March 18, 2022.
Maruti Suzuki Super Carry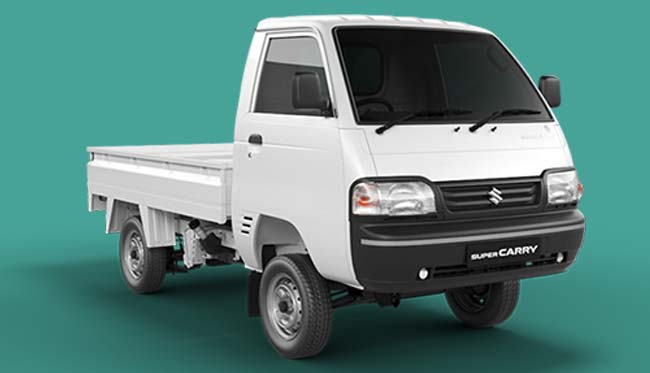 Suzuki Super Carry is a mini-pickup truck with  ability to carry few loads with much fuel efficiency. It is much lighter vehicle than Suzuki Eeco cargo and a bit cheaper in terms of price. If you need to carry goods in small quantity such as packets of rice, water jars, etc., this would be an ideal vehicle for you as it is fuel efficient compared to larger mini-trucks. Also, you can easily take it to congested or narrow roads without much hassle. Therefore, Super Carry can be ideal for delivery services as well within a city area.
Talking about some of the specifications and features of Super Carry, it comes with 165mm ground clearance. It shouldn't be ideal for longer commutes on uneven roads but good enough to operate it within a town or city area. Suzuku Super Carry gives mileage of around 15 km per liter. Also, it has fuel tank capacity of 30 liters which should be enough to last a week. This mini-pickup has maximum power of 32.63PS@3500rpm whereas maximum torque of 75Nm@2000rpm. Talking about the dimensions of Suzuki Super Carry, it has length of 3.8m, breath of around 1.56m and height of around 1.88m.
Suzuki Super Carry Specifications or Features
Engine Fuel Type
Petrol
Displacement
796cc
Mileage
15 kmpl
Fuel Tank Capacity
30 liters
Ground Clearance
165mm
Maximum Power
32.63ps@3500rpm
Maximum Torque
75Nm@2000rpm
Seating Capacity
2
Dimensions
(Length x Breadth x Height)
3800mm x 1562mm x 1883mm
Note: Maruti Suzuki Super Carry specifications or features were last updated on September 2020.
You can message us your queries regarding Maruti Suzuki Super Carry price in Nepal or its specifications at our Facebook page.