Ford Ecosport in 2022 starts at price of Rs. 44.50 Lakhs in Nepal, which is a petrol vehicle. Diesel variant of Ford EcoSport currently isn't available. Go Automobiles Private Limited, sole authorized distributor of Ford Cars & pickups in Nepal, sells Ford EcoSport. Customer has choice of 2 variants including Titanium (MT) and Titanium+ (AT). Petrol engine comes with 1497cc engine capacity. They have FWD as drivetrain.
Price List of Ford EcoSport in Nepal – 2022

Here is the full list of Ford EcoSport price in Nepal for 2022. This price list includes almost all variants of Ford EcoSport cars or SUV available in Nepal:
Ford EcoSport price in Nepal

| Ford EcoSport variants in Nepal | Price |
| --- | --- |
| Ford EcoSport 1.5L Titanium M/T (Petrol) | Rs. 44.50 Lakhs |
| Ford EcoSport 1.5L Titanium+ A/T (Petrol) | RRs. 50.90 Lakhs |
Please note that above price of Ford EcoSport cars are subjected to change and is for reference purpose only. Kindly contact Ford Nepal to get the latest showroom price.
Note: Ford EcoSport price list was last updated on March 18, 2022.
Ford EcoSport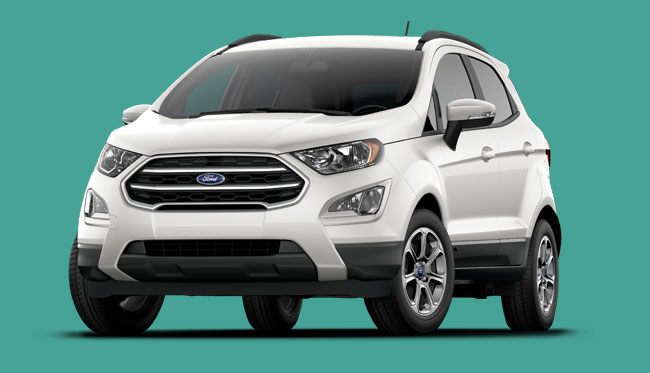 Ford Ecosport is subcompact crossover SUV manufactured by Ford Motor Company. These vehicles are assembled in India and exported to Nepal. Ford Ecosport is slowly gaining popularity in Nepal due to its very affordable price range in the given segment. It is a perfect example of "value for money" SUV car. Also, customers can choose from lots of variants from an established brand such as Ford. Ford vehicle do have good resale value as well. Only complain that this vehicle has received is on its pickup performance. However, for a city drive, Ford Ecosport is a perfect SUV choice for price concerned customers in Nepal.
Specifications & Features
Some of the common specs or features of Ford EcoSport cars available in Nepal is given below:
Ford EcoSport Specifications or Features

| | | |
| --- | --- | --- |
| Specifications | Petrol Variant | Diesel Variant |
| Engine | Petrol | Diesel |
| Displacement | 1497cc | 1498cc |
| Mileage | 17 kmpl | 23 kmpl |
| Ground Clearance | 200mm | 200mm |
Note: Specifications or features of Ford Ecosport was updated before March 2020. Please contact nearby Ford dealers in Nepal to find any new updates.
You can message us your queries regarding Ford EcoSport price in Nepal or its specifications/features at our Facebook page.