Mitsubishi car is currently available in 3 different models of cars within the price range of Rs. 1.1 crore to Rs. 2.1 crore in Nepal. Apart from that it has a pickup model as well. Their pickup is available at starting price of Rs. 88.5 lakhs. Here is the list of Mitsubishi car price in Nepal for 2020. This price list covers almost all models of Mitsubishi car & pickup available in Nepal:
Mitsubishi Cars Price in Nepal – 2020 Updated List

Mitsubishi car price in Nepal

| Mitsubishi Cars in Nepal | Price |
| --- | --- |
| Mitsubishi Outlander PHEV (2400cc) | Rs. 1.37 Crore |
| Mitsubishi Pajero 3 Door (3200cc Turbo) | Rs. 1.55 Crore |
| Mitsubishi Pajero Sport (2442cc) | Rs. 1.65 Crore |
| Mitsubishi Pajero 5 Door (3200cc) | Rs. 2.10 Crore |
| Mitsubishi Eclipse Cross – Full Option (1500cc) | Rs. 1.15 Crore |
| Mitsubishi L200 Manual (2442cc Turbo) | Rs. 88.50 Lakhs |
| Mitsubishi L200 Automatic (2442cc Turbo) | Rs. 92 Lakhs |
Please note that above price is subjected to change and is for reference purpose only. Kindly contact Mitsubishi Nepal to get the latest showroom price.
Note: Mitsubishi car and pickup price list was last updated on March 17, 2020.
You may also like to check historical prices of Mitsubishi cars in Nepal.
Mitsubishi Nepal
Mitsubishi cars in Nepal are exclusively distributed by Leon Motors Private Limited. Mitsubishi Motors, part of Mitsubishi Group, is a Japanese multinational automotive company. In Japanese, "Mitsu" means "three" and "hishi" means water chestnut. When combined, it's pronounced as "Mitsubishi".  It is the sixth biggest auto manufacturer in Japan and sixteenth worldwide. With history of near about 100 years, it has produced some of the most innovative cars of the world to this date. Since late 2016, one third of company's share is owned by Nissan. Since, Nissan & Renault had already formed an alliance; Mitsubishi is now part of that alliance. Apart from cars, Mitsubishi Motors produces buses, trucks and heavy equipment. It is sold over 160 countries around the globe including Nepal.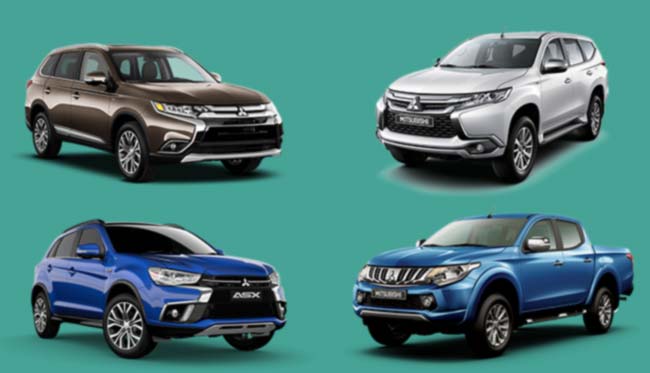 In Nepal, Mitsubishi only sells its models of cars and pickup through Leon Motors Pvt. Ltd. Models of cars available in the country include  Outlander, Eclipse Cross and Pajero. Apart from that Leon Motors is selling manual and automatic engine variant of L200 model of pickup trucks. Compared to other brands in Nepal, price of Mitsubishi vehicles come in premium range. However, their comfort, style and design make them worth the price.
Contact Information
To buy or test-drive; or for more details about Mitsubishi cars, SUV or pickup price in Nepal with their specifications, you can contact at:
Leon Motors Private Limited
Shantinagar, New Baneshwor, Kathmandu, Nepal
Tel: +977-1-4622074/4622485/4622147
Fax: +977-1-4622888
E-mail: [email protected]
Or you can message us your queries regarding Mitsubishi car price in Nepal or its specifications, features at our Facebook page.