Kia Picanto, a premium hatchback car, starts at the price of just Rs. 25 Lakhs in Nepal. Continental Trading Enterprises, the sole authorized distributor of Kia cars in Nepal, is currently selling 4 variants. All of these variants come with premium features. 4 of the variants of Kia Picanto includes LX, EX-I, EX-II and EX-III. All of them come with 998cc petrol engine. You can get sunroof in EX-I variant which will cost you just Rs. 28 Lakhs.
Price List of Kia Picanto in Nepal – 2018

Here is the full list of Kia Picanto price in Nepal for 2018. This price list includes all variants of Kia Picanto hatchback cars available in Nepal:
Kia Picanto price in Nepal

| Kia Picanto variants in Nepal | Price |
| --- | --- |
| Kia Picanto LX | Rs. 24.99 Lakhs |
| Kia Picanto EX-I | Rs. 27.49 Lakhs |
| Kia Picanto EX-II | Rs. 30.49 Lakhs |
| All New Picanto EX-III | Rs. 34.99 Lakhs |
Please note that above price of Kia Picanto is subjected to change and is for reference purpose only. Kindly contact Kia Nepal to get the latest showroom price.
Note: Kia Picanto price list was last updated on July 16, 2018.

Kia Picanto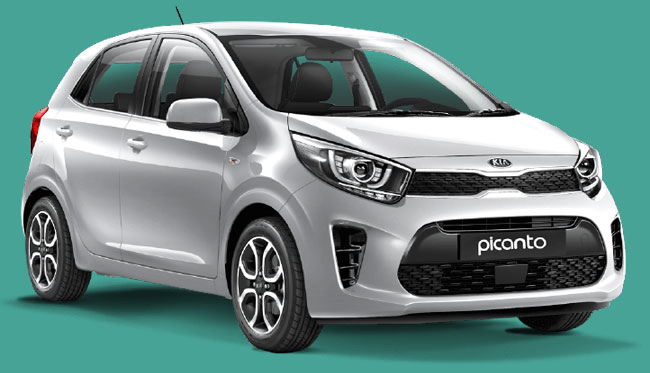 Kia Picanto is a compact hatchback city car with spacious body and seating capacity of 5. As Kia is higly focused on safety, it comes with Drivewise safety features along with 7-year of warranty in vehicle. Picanto has a straight line body with unique Kia family face. This face comes with signature grill, also called as tiger-nose, which makes Picanto standout among other compact hatchback cars. Apart from that, its premium features makes it a must go for anyone looking for small car to drive in the city. Picanto was designed based on the model of Grand i10, another hatchback from its parent company Hyundai. Picanto gives good mileage of around 17-19 kmpl. However, it has low ground clearance of just 151mm. It shouldn't be a problem if you are planning to use it inside city. But off-road can be a problem.
Specifications & Features
Some of the common specs and features of Kia Picanto car in Nepal are given below:
Kia Picanto Specifications or Features

| | |
| --- | --- |
| Engine | Petrol |
| Displacement | 998cc |
| Mileage | 17-19kmpl |
| Ground Clearance | 151mm |
You can message us your queries regarding Kia Picanto price in Nepal or its specifications, features at our Facebook page.