Maruti Suzuki Alto in 2021 starts at the price of Rs. 19.09 lakhs in Nepal. CG Motocorp, the official distributor of Suzuki cars in Nepal, is currently selling 4 variants of Suzuki Alto through its showroom or dealer network. These petrol variants of Alto hatchback cars come with 796 cc engine. Variants of Maruti Suzuki Alto in Nepal include STD, LXi, VXi and K10 VXi.
Price List of Suzuki Alto in Nepal – 2021

Here is the list of Maruti Suzuki Alto price in Nepal for 2021. This price list includes almost all variants of Suzuki Alto hatchback cars available in Nepal:
Maruti Suzuki Alto price in Nepal

| Suzuki Alto variants in Nepal | Price |
| --- | --- |
| Suzuki Alto 800 STD (796cc) | Rs. 19.09 Lakhs |
| Suzuki Alto 800 LXi (796cc) | Rs. 21.09 Lakhs |
| Suzuki Alto 800 VXi (796cc) | Rs. 23.09 Lakhs |
| Suzuki Alto K10 VXi (796cc) | Rs. 22.89 Lakhs |
Please note that above price of Alto cars are subjected to change and is for reference purpose only. Kindly contact Maruti Suzuki Nepal to get the latest showroom price.
Note: Suzuki Alto price list was last updated on February 23, 2021.
Maruti Suzuki Alto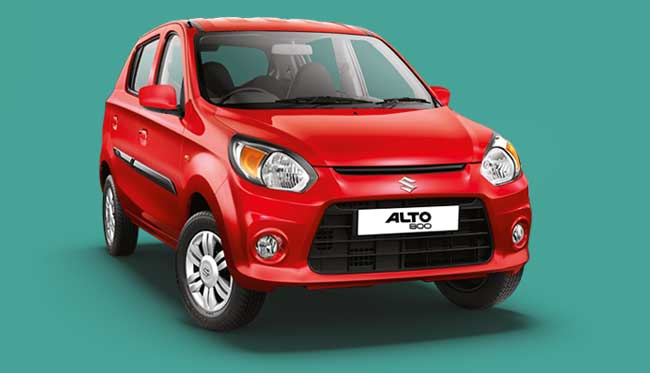 Suzuki Alto is a hatchback car which had the reputation of being a taxi in Nepal. This was particularly true when model was called Maruti 800. However, introduction of Alto 800 has added a new flavor to this model. It looks quite different than its older version and doesn't reflect the stereotype image it had.  However, Suzuki Alto still comes at budget price of around 20 lakhs, which makes it one of the most affordable car in Nepal.
Bearing a 796cc engine, this city car can run around 16km per liter. Maruti Suzuki Alto comes with fuel tank capacity of 35 liters.  It should be enough to last the fuel for a week even if you are a busy driver, given its mileage. Unlike its older version, which was smaller in size, this Alto can seat 5 people with larger comfort. Alto's ground clearance of 170mm is not best for off-road drive but it should be good enough for city areas. Talking about some of the important features of Alto, it comes with single airbag for the safety of driver. It also has ABS and reverse parking sensors for further safety.
Specifications and features
Some of the common specifications and features of Maruti Suzuki Alto is summarized below:
Suzuki Alto Specifications or Features
Engine Fuel Type
Petrol
Displacement
796cc
Mileage
16 kmpl
Fuel Tank Capacity
35 liters
Ground Clearance
170mm
Maximum Power
[email protected] (~ [email protected])
Maximum Torque
Petrol: 69 [email protected]
Seating Capacity
5
Dimensions
(Length x Breadth x Height)
3430mm x 1490mm x 1475mm
Salient Features of Alto:

Front power windows
Dial Type Climate control
Power Steering
Remote Back Door Opener
ABS
Single Airbag
Reverse parking sensors
Note: Maruti Suzuki Alto specifications and features were last updated on September 2020.
You can message us your queries regarding Maruti Suzuki Alto price in Nepal or its specifications at our Facebook page.