Nissan Navara pickup car in 2020 starts at the price of Rs. 82.49 Lakhs in Nepal. This base model comes with manual transmission. Whereas, automatic transmission comes at the price of Rs. 92.49 Lakhs in Nepal. Pioneer Motocorp, the sole distributor of Nissan cars in Nepal, are currently selling only two variants i.e Navara MT and Navara AT. Both of these variants comes with 2488cc diesel engine. In fact, Nissan are the only company to introduce pickup truck in Nepal with automatic transmission. All other brands are selling pickup vehicles in manual transmission only. That is one interesting feature which can make you choose Nissan Navara over others.
Price List of Nissan Navara in Nepal – 2020

Below is the list of Nissan Navara price in Nepal for 2020. This price list covers all the variants of Nissan Navara pickup vehicles or trucks available in Nepal.
Nissan Navara price in Nepal

| Nissan Navara Pickup in Nepal | Price |
| --- | --- |
| Nissan Navara MT (Diesel 2488cc) | Rs. 82.49 Lakhs |
| Nissan Navara AT (Diesel 2488cc) | Rs. 92.49 Lakhs |
Please note that above price of Nissan Navara pickup-trucks is subjected to change and is for reference purpose only. Kindly contact Nissan Nepal to get the latest showroom price.
Note: Nissan Navara price list was last updated on March 08, 2020.
Nissan Navara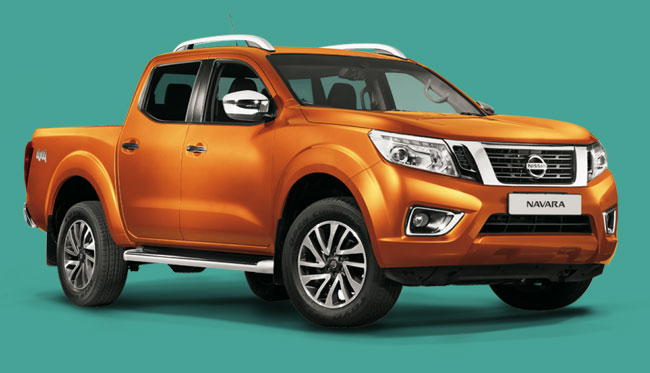 Nissan Navara is a pickup vehicle manufactured by Japanese motor company. Originally, it is the D22, D23 or D40 generations of pickup vehicles sold over Asia, Australia and Europe. It was also sold as Nissan NP3 or Nissan Frontier. In 2014, Nissan launched the third generation of Navara which is continued till present. Pickup vehicle such as Mercedes-Benz X-Class and Renault Alaskan 2017 model are also based on platform of Nissan Navara. Current version of Nissan Navara comes with tough yet sleek built with modern styling. Moreover, it has smart technologies, premium ride comfort at reasonable price.
Talking about the specifications, Navara comes with 2488cc diesel engine and option for manual or automatic transmission. However, automatic transmission has higher price. Nissan Navara comes with powerfull all-wheel-drive (AWD) drivetrain. It has decent ground clearance of 243mm.  With the seating capacity of 5, you should be able to take both your people and goods around easily. This vehicle can be very useful in construction and maintenance business. With fuel tank capacity of 80 liters and mileage of around 9 – 12 kmpl, it should be a decent vehicle to go on a long on-road/off-road drive.
Specifications & Features
Some of the common specifications and features of Nissan Navara pickup cars are given below:
Nissan Navara Specifications or Features

| | |
| --- | --- |
| Engine | Diesel |
| Displacement | 2488cc |
| Transmission | Manual/Automatic |
| Drive-train | AWD |
| Mileage | 9-12 kmpl |
| Ground Clearance | 243mm |
You can message us your queries regarding Nissan Navara price in Nepal or its specifications, features at our Facebook page.