Volkswagen Amarok in 2019 starts at the price of Rs. 82 lakhs in Nepal. Currently Pooja International, official distributor of Volkswagen cars in Nepal, is selling 3 different variants of Amarok pickup cars. These three variants of Amarok include Startline, Trendline without leather seats and Trendline with leather seats. All of these pickup vehicle comes with 2.0L diesel engine. Volkswagen is a reputed brand in terms of engineering and hence, Amarok can be trusted for built quality and performance.
Price List of Volkswagen Amarok in Nepal – 2019

This is the updated list of Volkswagen Amarok price in Nepal for 2019. This price list covers all the variants of Volkswagen (VW) Amarok pickup vehicles distributed by Pooja International Nepal Private Limited:
Volkswagen Amarok price in Nepal

| Volkswagen Amarok Pickup in Nepal | Price |
| --- | --- |
| Volkswagen Amarok 2.0 Startline | Rs. 82 Lakhs |
| Volkswagen Amarok 2.0 Trendline | Rs. 88 Lakhs |
| Volkswagen Amarok 2.0 Trendline (With Leather Seats) | Rs. 92 Lakhs |
Please note that above price of Volkswagen Amarok is subjected to change and is for reference purpose only. Kindly contact Volkswagen (VW) Nepal to get the latest showroom price.
Note: Volkswagen Amarok price list was last updated on February 12, 2019.
Volkswagen Amarok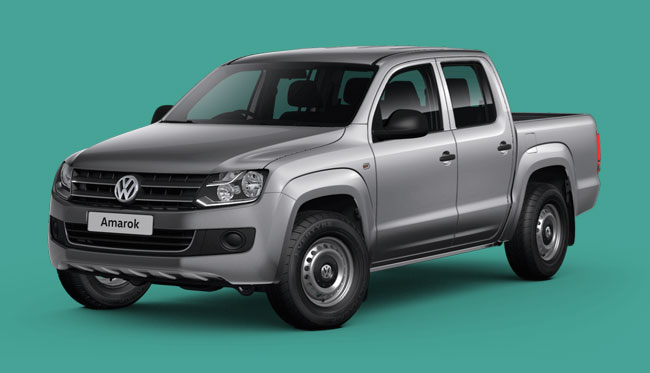 Volkswagen (VW) Amarok is a pickup truck designed and manufactured by German Company Volkswagen Commercial Vehicles (VWCV). In global context it produces both single and double cab. However, in the context of Nepal, they are selling only double cab which is very popular. As mentioned earlier, all of its variants comes with 1968cc diesel engine. Volkswagen Amarok is only available in Manual Transmission. But that shouldn't be a problem for someone looking to buy a pickup vehicle. Amarok functions with powerful All-Wheel-Drive (AWD) drivetrain to best perform in difficult terrains. It gives maximum power of 140 bhp @ 3500 RPM. Whereas, it gives maximum torque of 340 Nm @ 1600-2250 RPM. Amarok has a good ground clearance of 228mm. With fuel tank capacity of 80 liters and mileage of around 13 kmpl, it should be ready to go anywhere.
Specifications & Features
Some of the common specs and features of Volkswagen Amarok pickup truck in Nepal are given below:
Volkswagen Amarok Specifications or Features

| | |
| --- | --- |
| Engine | Diesel |
| Displacement | 1968cc |
| Transmission | Manual |
| Mileage | 13 kmpl |
| Ground Clearance | 228mm |
You can message us your queries regarding Volkswagen Amarok price in Nepal or its specifications, features at our Facebook page.