Hoping to get recent and updated list of car price in Nepal? Your are in right place. Lot of us look for cars or auto price in Nepal. However, there aren't much reliable source where we can get this information, particularly for four-wheeler. Therefore, for your ease, we have come up with price list of various models & brands of cars including SUV, pickups, sedans etc. Now know the cost information of various models from any brands of car in Nepal, beforehand you go to the showroom to buy. Check our price list below for more details.
Here, we are first presenting you the starting price of popular models of cars in Nepal based on their search volume arranged by alphabetical order. Lot of inquiries comes for these vehicles. Majority of these cars are subcompact or compact SUV. This shows the trend and craze for compact SUV in the country. Here is the list: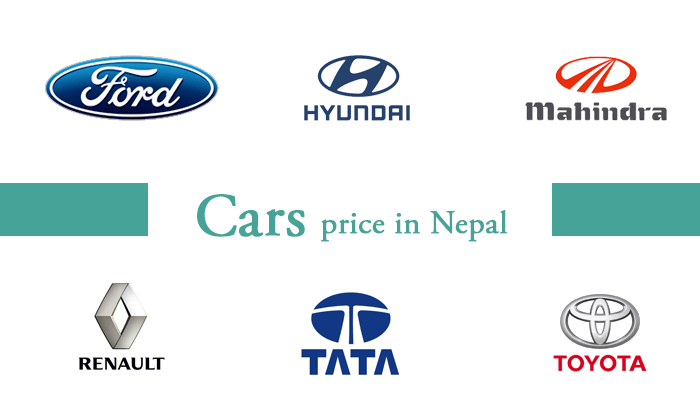 Car price of popular brands in Nepal
Cars are available in various body type. This includes sedan, hatchback, compact SUV, SUV, pickup, etc. Depending on your need and taste, you can buy these type of cars from various brands in Nepal. There are over 20 car  companies selling their vehicles in Nepal. However, it is not possible to list out price of each and every brands of car in Nepal. Therefore, we are presenting you some of the popular brands such as Ford, Hyundai, Mahindra, Renault, Tata and Toyota. To check the price-list of other brands, you may look at our sidebar menu.
Below are the major brands of car in Nepal along with starting price of each of their models:
*Please note that all above price is subjected to change and is for reference purpose only. Kindly contact respective showroom, dealers or distributors to get the latest price.
Hope you liked our page of car price in Nepal. You can find useful information about all other brands of cars here in New Cars section. You can contact these brands and find more details on price, specifications or features.